The Hill reports that Vermont Senator Bernie Sanders to unveil 'Medicare for all' bill on Wednesday: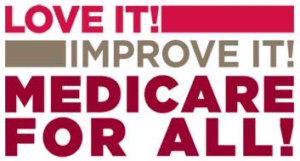 Sen. Bernie Sanders (I-Vt.) will unveil his "Medicare for all" bill on Wednesday[.]
The advisory from his office says that Sanders will be joined by Senate co-sponsors, though does not list who they are. He will also be joined by "medical professionals, business leaders, and patients."
The issue has emerged as a key test for 2020 Democratic presidential hopefuls.
In fact, the Washington Post reports today that The dam is breaking on Democrats' embrace of single-payer:
Sen. Cory Booker (D-N.J.) became the fourth co-sponsor of Sen. Bernie Sanders's (I-Vt.) "Medicare for all" health-care bill Monday. In doing so, he joined Sens. Elizabeth Warren (D-Mass.) and Kamala D. Harris (D-Calif.).
What do those four senators have in common? Well, they just happen to constitute four of the eight most likely 2020 Democratic presidential nominees, according to the handy list I put out Friday. And another senator in my top 8, Kirsten Gillibrand (D-N.Y.), last month came out in favor of the idea of "Medicare for all" — though not this specific bill (yet).
This is about as far from a coincidence as you can get. And it suggests the dam is breaking when it comes to the Democratic Party embracing government-run health care, also known as single-payer.