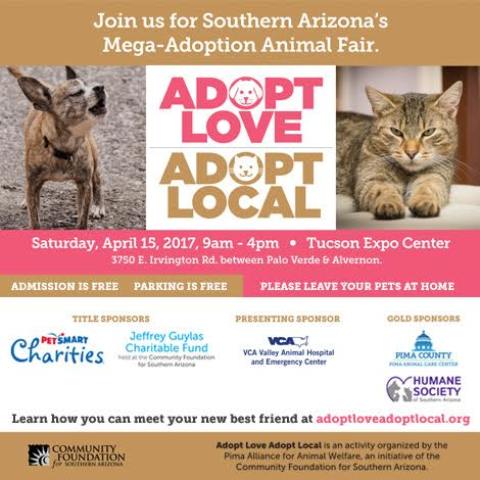 "Adopt Love Adopt Local hosts Southern Arizona's one-day mega-adoption fair to help match hundreds of pets with their forever homes.
Adopt Love Adopt Local, an initiative of the Pima Alliance for Animal Welfare (PAAW),  is hosting its third mega-adoption animal fair at the West Hall of the Tucson Expo Center on Saturday, April 15, from 9:00 a.m. to 4:00 p.m.
Last year, more than 2,000 open-hearted people attended the event, ensuring 151 animals found their forever homes. Grateful pets included 83 dogs, 42 puppies, 12 cats, and 14 kittens.
"In our community, thousands of animals find themselves in need of a loving family every year. By creating a family-friendly opportunity for Southern Arizonans to connect with local organizations, we will give these animals a second chance at finding love and happiness, while celebrating the human-animal bond,"  said Sandra Nathan, Vice President of Community Investment at the Community Foundation for Southern Arizona.