David Cay Johnston is an investigative journalist and author who is a specialist in economics and tax issues, and the winner of the 2001 Pulitzer Prize for Beat Reporting.  Johnston also wrote the book on Donald Trump, literally: The Making of Donald Trump (August 2016).
Johnston's latest scoop on "The Donald" is his 2005 Form 1040 tax summary that an unidentified individual mailed to him unsolicited. DCREPORT EXCLUSIVE: Trump Earned $153 Million In 2005; He Paid $36.6 Million In Taxes: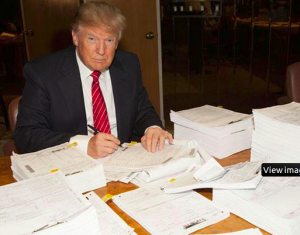 DCReport has obtained Donald Trump's Form 1040 federal tax return for 2005. There's no smoking gun there, no obvious evasion, but clearly some bending of the tax laws almost to the breaking point. The document offers a rare glimpse at how a super wealthy couple can manipulate and manage our complex tax laws to reduce their obligations far below rates paid by typical salaried professionals or even blue-collar wage earners.
The White House [preemptively] confirmed the authenticity of the tax returns [before this story was reported]. "Despite this substantial income figure and tax paid," the White House said in a statement, "the dishonest media can continue to make this part of their agenda, while the President will focus on his, which includes tax reform that will benefit all Americans."