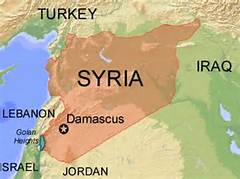 The other day I posed the question about the Trump administration's nascent foreign policy: "Are we now going from the Realpolitik foreign policy announced just last week, as the New York Times analyzes today, For Trump, a Focus on U.S. Interests and a Disdain for Moralizing, to a return to the Bush Doctrine of unilateral military action?"
With last night's impulsive "do something" missile strikes on a Syrian air base, we still do not have an answer. Acting on Instinct, Trump Upends His Own Foreign Policy.
The New York Times analyzes, Trump's Far-Right Supporters Turn on Him Over Syria Strike:
Some of President Trump's most ardent campaign supporters were among his most vocal opponents on Thursday after he ordered the missile strike against Syria, charging him with breaking his promise to keep the United States out of another conflict in the Middle East.
Prominent writers and bloggers on the far right attacked Mr. Trump. They accused him of turning against his voters by waging an attack that he had for years said would be a terrible idea. They also criticized him for launching the strike without first seeking congressional approval — something he said on Twitter in 2013 would be a "big mistake."
The most vocal in their outrage were leaders from the small but influential white nationalist movement.
Paul Joseph Watson, an editor at the conspiracy theorist site Infowars, said on Twitter that Trump "was just another deep state/neocon puppet." He added, "I'm officially OFF the Trump train."
Richard Spencer, a far-right activist and white nationalist who coined the term "alt-right," said he condemned the attack and hinted at supporting another presidential candidate in 2020: Representative Tulsi Gabbard of Hawaii, a Democrat. Ms. Gabbard met with President Bashar al-Assad of Syria in January and on Thursday criticized the missile strike as shortsighted and reckless.
For some on the far right, particularly those who are pro-Russia, Mr. Trump's strike crossed a [red] line.