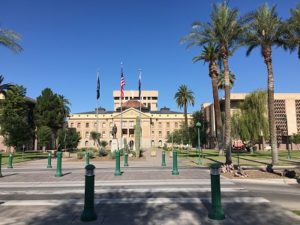 I posted about this lawsuit over the weekend, AG Mark Brnovich creates a 'straw man' for our lawless Tea-Publican legislature on higher ed funding.
The head of the state Board of Regents, Bill Ridenour, blasted Attorney General Mark Brnovich for what he said is a publicity stunt Friday — he called it "political pandering" — in suing the board and blaming its members for the steep hike in tuition in the last 15 years. ABOR chairman calls tuition lawsuit a publicity stunt:
"The AG's lawsuit, while it makes for good headlines, does nothing to change the burden for students and their families," he said in a prepared statement. "The suit is full of attacks, but offers no constructive remedies."
Ridenour said Brnovich is right on at least one issue: The "seismic" shift in cost from the state to students to attend one of the state's three universities.
What's wrong with the litigation, he said, is that it seeks a solution from just the regents, ignoring the role he said lawmakers have played in the 300-plus percent increase in tuition since 2003. And Ridenour said if the issue is going to be hashed out in court, then the lawsuit needs to involve more than the regents.
"If it goes to that extent, the Legislature is an indispensable party," he told Capitol Media Services.
Ridenour is absolutely correct. ABOR should move the court for impleader of the Arizona legislature, because the constitutional provisions for which Brnovich is suing ABOR are actually express directives to the Arizona legislature:
Article XI, Section 6: The university and all other state educational institutions shall be open to students of both sexes, and the instruction furnished shall be as nearly free as possible. The legislature shall provide for a system of common schools by which a free school shall be established and maintained in every school district for at least six months in each year, which school shall be open to all pupils between the ages of six and twenty-one years.
Article XI, Section 10.  The revenue for the maintenance of the respective state educational institutions shall be derived from the investment of the proceeds of the sale, and from the rental of such lands as have been set aside by the enabling act approved June 20, 1910, or other legislative enactment of the United States, for the use and benefit of the respective state educational institutions. In addition to such income the legislature shall make such appropriations, to be met by taxation, as shall insure the proper maintenance of all state educational institutions, and shall make such special appropriations as shall provide for their development and improvement.
I cannot imagine that the court would not grant ABOR's motion to implead the Arizona legislature as an indispensable party.