The Washington Post recently editorialized, Trump pulls another stunt of cynical distraction:
The party in power is demanding the investigation and possible prosecution of its defeated political rival on trumped-up claims of wrongdoing. This is what happens in banana republics, not the world's greatest democracy. Even if this is just a strategy to divert attention, it is unbecoming of the leaders of a rule-of-law state and a disservice to their oaths.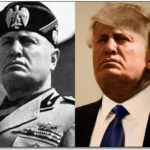 The authoritarian wannabe autocrat Donald Trump has gone full banana republic in the past few days, pressuring his Attorney General and the Justice Department to investigate and prosecute his "defeated political rival on trumped-up claims of wrongdoing" or, once again, he is threatening to fire Jeff Sessions for not using his office to pursue his political rivals. Trump breaches boundaries by saying DOJ should be 'going after' Democrats:
President Trump on Friday repeatedly called on the Department of Justice and FBI to investigate his Democratic political opponents, a breach of the traditional executive branch boundaries designed to prevent the criminal justice system from becoming politicized.
Trump urged federal law enforcement to "do what is right and proper" by launching criminal probes of former presidential rival Hillary Clinton and her party — a surprising use of his bully pulpit considering he acknowledged a day earlier that presidents are not supposed to intervene in such decisions.