"Second verse, same as the first" . . .
Donald Trump's revised travel ban from earlier this month, issued after he dropped court appeals of his first badly flawed travel ban, faced immediate legal challenges in multiple courts.
Today the U.S. District Court for Hawaii issued a nationwide restraining order against implementation of the revised travel ban hours before it was to go into effect. Federal Judge Blocks Trump's Latest Travel Ban Nationwide:
A federal judge in Hawaii issued a nationwide order (.pdf) Wednesday evening blocking President Trump's ban on travel from parts of the Muslim world, dealing a political blow to the White House and signaling that proponents of the ban face a long and risky legal battle ahead.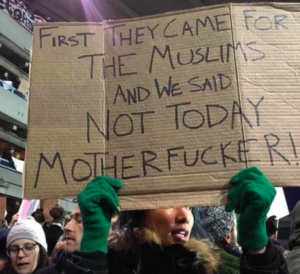 The ruling was the second frustrating defeat for Mr. Trump's travel ban, after a federal court in Seattle halted an earlier version of the executive order last month. Mr. Trump responded to that setback with fury, lashing out at the judiciary before ultimately abandoning [an appeal from] the order.
He issued a new and narrower travel ban on March 6, with the aim of pre-empting new lawsuits by abandoning some of the most contentious elements of the first version.
But Mr. Trump evidently failed in that goal: Democratic states and nonprofit groups that work with immigrants and refugees raced into court to attack the updated order, alleging that it was a thinly veiled version of the ban on Muslim migration that he had pledged to enact last year, as a presidential candidate.
Administration lawyers argued in multiple courts on Wednesday that the president was merely exercising his national security powers and that no element of the executive order, as written, could be construed as a religious test for travelers.
But in the lawsuit brought by Hawaii's attorney general, Doug Chin, Judge Derrick K. Watson appeared skeptical of the government's claim that past comments by Mr. Trump and his allies had no bearing on the case.
"Are you saying we close our eyes to the sequence of statements before this?" Judge Watson, who was appointed by former President Barack Obama, asked in a hearing Wednesday before he ruled against the administration.