Well resisters, last night two unlikely Tea-Publicans, Mike Lee (UT) and Jerry Moran (KS), announced their opposition to evil GOP bastard Mitch McConnell's abominable Senate bill to repeal and replace "Obamacare" with  a mean-spirited "Trumpcare." Health Care Overhaul Collapses as Two Republican Senators Defect: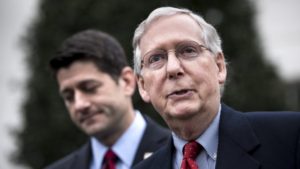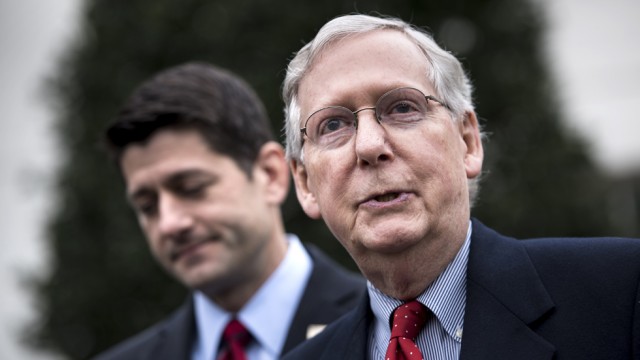 Two more Republican senators declared on Monday night that they would oppose the Senate Republican bill to repeal the Affordable Care Act, killing, for now, a seven-year-old promise to overturn President Barack Obama's signature domestic achievement.
The announcement by the senators, Mike Lee of Utah and Jerry Moran of Kansas, left their leaders at least two votes short of the number needed to begin debate on their bill to dismantle the health law. Two other Republican senators, Rand Paul of Kentucky and Susan Collins of Maine, had already said they would not support a procedural step to begin debate.
With four solid votes against the bill, Republican leaders now have two options.
They can try to rewrite it in a way that can secure 50 Republican votes, a seeming impossibility at this point, given the complaints by the defecting senators. Or they can work with Democrats on a narrower measure to fix the flaws in the Affordable Care Act that both parties acknowledge.
WRONG! Tea-Publicans will do what they always do: retaliate out of spite and vindictiveness, and continue to sabotage "Obamacare":
Senator Mitch McConnell, the Republican leader, conceded Monday night that "the effort to repeal and immediately replace the failure of Obamacare will not be successful." He outlined plans to vote now on a measure to repeal the Affordable Care Act, with it taking effect later. That has almost no chance to pass, however, since it could leave millions without insurance and leave insurance markets in turmoil.
A "clean" repeal effort was rejected in January for a "repeal and replace" plan because Tea-Publicans did not have the votes for a clean repeal then; it is far less likely they have the votes now. (Of course, our Rep. Martha McSally is at the ready to lead the GOP over the insanity cliff with her battle cry of "Let's get this fucking thing done!")