Back in March South Korean officials briefed President Trump on their recent visit to Pyongyang, where the North Korean leader expressed a willingness to discuss nuclear disarmament with the U.S. and said he would suspend all nuclear and missile tests during the dialogue.
Trump impulsively agreed to a summit with the man he had derided as "Little Rocket Man" in his Twitter rants, without any strategic plan or even an ask for North Korea. By doing so he did what no other president had ever done before: he gave legitimacy to the murderous dictatorship of Kim Jong Un and elevated North Korea to equal footing with the United States as a nuclear power on the world stage.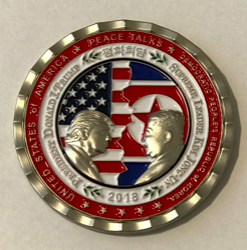 Trump started praising Kim Jong Un as "honorable" and even canceled a B-52 bomber training exercise with South Korea after the South Korean government expressed concerns that it could generate tensions before the summit. The White House even minted a Commemorative 'Peace Talks' Coin Ahead of the Trump-Kim Summit.
Then all of this suddenly changed today when Trump just as impulsively canceled the Korea summit that he had so impulsively agreed to in March. This was entirely predictable. It was never going to happen.
Paul Waldman of the Washington Post explains What really led to Trump's North Korea faceplant:
Looks like President Trump may have to wait for that Nobel Peace Prize he has been hoping for:
President Trump on Thursday canceled a planned summit next month with North Korean leader Kim Jong Un, citing "tremendous anger and open hostility" from the rogue nation in a letter explaining his abrupt decision.

"I feel it is inappropriate, at this time, to have this long-planned meeting," Trump said to Kim in a letter released by the White House on Thursday morning.
This is what we call "cutting your losses." We've had reports in recent days that Trump was having second thoughts about the summit after learning, to his shock and dismay, that the North Koreans were not eager to simply give up all their nuclear weapons right away. So it appears that after a couple of weeks in which he and his administration seemed to be trying everything they could think of to sabotage any chance for an agreement, Trump decided that canceling the summit now was preferable to holding the summit and coming away with nothing after raising expectations so extraordinarily high.