Donald Trump continues to go "oh for" in the federal courts with his discriminatory Muslim travel bans.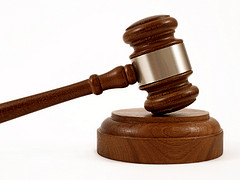 Today a three judge panel of the Ninth Circuit Court of Appeals rejected Trump's revised Muslim travel ban, joining the en banc Fourth Circuit Court of Appeals in rejecting the revised Muslim travel ban because of unconstitutional discrimination. Read the ruling HERE (.pdf).
The San Franciso Chronicle reports, Federal appeals court in SF deals Trump another travel ban defeat:
President Trump's second attempt to ban U.S. entry by anyone from a group of nations with overwhelmingly Muslim populations was rejected Monday by a San Francisco-based federal appeals court, which said Trump had exceeded his authority and violated a ban on discrimination based on national origin.
The 3-0 ruling by the Ninth U.S. Circuit Court of Appeals in San Francisco follows a May 24 decision by [the Fourth Circuit] appeals court in Richmond, Va., that reached the same conclusion. The Trump administration has appealed that ruling to the U.S. Supreme Court.
Note: "The justices have asked the challengers to file responses to the petition for review and the requests for stays of the lower courts' rulings. Those responses are due on or before 3 p.m. on Monday, June 12." This is likely why the Ninth Circuit issued its ruling today.  Stay tuned.