Our Twitter-troll-in-chief successfully manufactured a grand distraction of the media this past week by engaging in outrageus behavior with his "Gold Star family" scandal to stop them from reporting on subjects he does not want them to cover.
A subject the media failed to cover this past week while distracted by bright shiny objects was the first court hearing in one of the first emoluments clause cases filed against Donald Trump for his profiting off of his position as president.
Dahlia Lithwick reports, Would $1 Million in Hot Dogs Violate the Emoluments Clause?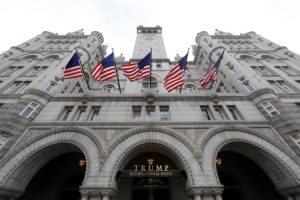 In a federal courthouse in Manhattan on Wednesday morning, lawyers for the Department of Justice tried to persuade Federal District Judge George B. Daniels to toss the civil lawsuit accusing the president of violating the Constitution by accepting foreign money while in office. Perhaps the high point of the morning came when a Trump lawyer conceded that if the president were to accept $1 million in hot dogs purchased from an imaginary Trump hot dog business as a gift to sign a foreign treaty, he would probably run afoul of the most obscure constitutional provision you've never heard of. Metaphor, meet the president of the United States.
You may recall that back in November everyone was casting about trying to find a name for the phenomenon wherein a presidential candidate who promises to release his tax returns if elected and declines to do so, then promises to divest himself of his foreign business interests from which he would profit as president and fails to do so, and then stands next to a tower of empty folders and tells us ethics rules don't apply to the White House and he doesn't care if you're mad about that. You may also recall that this was around the time the word emoluments became something other than that stuff you use to keep your skin smooth and supple.
The Foreign Emoluments Clause can be found in Article I, Section 9 of the U.S. Constitution, and it bars anyone holding an "office" from accepting presents or emoluments from "any King, Prince or Foreign State" without "the consent of Congress." (The Constitution actually has three separate emoluments clauses, but only the foreign and domestic clauses came up in oral arguments on Wednesday.) In the simplest possible terms, the Emoluments Clause prohibits government officials from accepting gifts or payments from foreign governments. Here's the sticky bit: We don't have a lot of doctrine in this area because it's never been litigated, chiefly because most presidents haven't wanted to look like they were cashing in on the office with club fees, Chinese trademarks, and jacked-up hotel drink prices. But this president doesn't care about any of that.