I posted about these lawsuits the other day, Draining the Trump Swamp: Emoluments Clause lawsuits are heating up, which referenced another lawsuit yet to be filed by Democrats in Congress.
That lawsuit has now been filed. Democrats in Congress Sue Trump Over Foreign Business Dealings: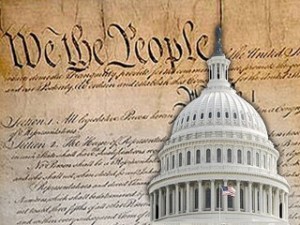 Nearly 200 Democratic members of Congress filed a federal lawsuit (.pdf) on Wednesday accusing President Trump of violating the Constitution by profiting from business dealings with foreign governments.
The plaintiffs — believed to be the most members of Congress to ever sue a sitting president — contend that Mr. Trump has ignored a constitutional clause that prohibits federal officials from accepting gifts, or emoluments, from foreign powers without congressional approval.
It is the third such lawsuit against Mr. Trump on the issue since he became president, part of a coordinated effort by the president's critics to force him to reveal his business entanglements and either sell off his holdings or put them in a blind trust.
Like the previous two federal lawsuits, this one, filed in federal court in Washington, accuses Mr. Trump of illegally profiteering from his businesses in a variety of ways, including collecting payments from foreign diplomats who stay in his hotels and accepting trademark approvals from foreign governments for his company's goods and services.
But it creates a new group of plaintiffs who claim the president's actions have damaged them: Democratic members of the House and Senate who say they have been wrongly deprived of their constitutional right to rule on whether Mr. Trump can accept such economic benefits from foreign governments, according to Senator Richard Blumenthal of Connecticut, who led the effort with Representative John Conyers Jr. of Michigan.
Article I, Section 9, Clause 8 of the United States Constitution, provides: "No title of nobility shall be granted by the United States: and no person holding any office of profit or trust under them, shall, without the consent of the Congress, accept of any present, emolument, office, or title, of any kind whatever, from any king, prince, or foreign state."