Back in March, the state of Nevada became the 36th state to ratify the Equal Rights Amendment … 35 Years After The Deadline: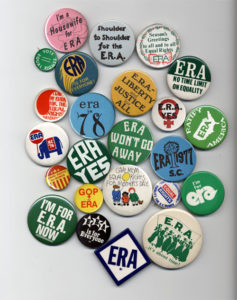 [T]he state Senate approved the long-dormant ERA, which among other things guarantees that "equality of rights under the law shall not be denied or abridged by the United States or by any state on account of sex." The senators passed a measure sent to them by the state Assembly, which had already approved it earlier this week.
It has been a long, twisty path for the ERA, which was first passed by Congress in 1972 and last approved by a state (Indiana) in 1977. The amendment teetered just three states short of the threshold necessary to see it adopted into law nationwide — a threshold it failed to achieve by the time Congress' deadline came and went.
But for ERA supporters such as Democratic state Sen. Pat Spearman, that deadline is little more than a paper tiger.
"It was in the resolving clause, but it wasn't a part of the amendment that was proposed by Congress," she tells KNPR. "That's why the time limit is irrelevant."
After all, Spearman and others argue, Congress' original ratification deadline was 1979, and national lawmakers already bumped that forward to 1982 — so what's stopping them from bumping it forward again?
"The Equal Rights Amendment is about equality, period," says Spearman, the Nevada bill's chief sponsor.
This afternoon, SJRCA4, the Equal Rights Amendment, is scheduled for a hearing in the Senate Executive Committee of the Illinois General Assembly. In 2014, the Illinois Senate voted 39-11 – by more than the necessary three-fifths margin of elected senators, as required by state law – to ratify the Equal Rights Amendment, but it was not put to a vote in the House, where there was not sufficient support.
UPDATE: SJRCA4 was approved by the Senate Executive Committee on a a 12-3 vote (2 voting present).