During the testimony of our Confederate Attorney General Jefferson Beauregard Sessions III yesterday before the Senate Intelligence Committee yesterday there was this entertaining exchange: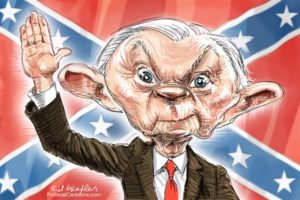 SEN. WYDEN: The question is, Mr. Comey said there were matters with respect to the recusal that were problematic and he couldn't talk about them. What are they?
SESSIONS: Why don't you tell me! There are none, Senator Wyden. There are none. I can tell you that for absolute certainty. This is a secret innuendo being leaked out there about me, and I don't appreciate it. I try to give my best and truthful answers to any committee I've appeared before, and it's really — people are suggesting through innuendo that I have been not honest about matters, and I've tried to be honest.
I half expected Sessions to go all Zell Miller on Sen. Wyden: "I do declare that you have impuned my honor, sir. I demand satisfaction. I challenge you to a duel."
And it was not innuendo, it was signal intelligence of Russian communications. Comey's Hint at Jeff Sessions-Russia Problem Was Alleged Secret Meeting at Mayflower Hotel: classified intelligence suggested an undisclosed meeting between Sessions and the Russian ambassador to the U.S. in April 2016 at the Mayflower Hotel in Washington.
Sessions followed the script set by Lt. Col. Oliver North in the Iran-Contra scandal asserting "I do not recall" more times than I could keep count (this is how a witness can avoid perjury charges). And what he did know, he refused to answer citing some ethereal executive privilege in the future that president Trump might assert, someday,  but had not asserted before his testimony.
This is becoming a thing with Trump administration officials.