We finally have some follow-up reporting to an earlier New York Times report about Jared Kushner discussing some sweet Russian oligarch money to finance the Princeling's troubled "Kushner Tower" during the transition back in December. Jared Kushner had a previously undisclosed meeting with the CEO of 'the bank that financed Vladimir Putin's grandest ambitions':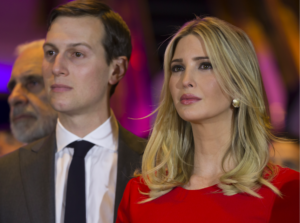 Kushner's meeting with Gorkov, the struggling bank's CEO, came as Kushner was trying to find investors for a Fifth Avenue office building in Manhattan that is set to be heavily financed by Anbang Insurance Group, a firm with ties to the Chinese government.
White House spokeswoman Hope Hicks told The Times on Monday that the "Kushner Tower" project wasn't discussed during his meeting with Gorkov, and a White House official said in a statement that Kushner took the meetings as part of his role as "the official primary point of contact with foreign governments and officials.
"White House spokeswoman Hope Hicks told The Times on Monday that the "The meeting did not appear to break any rules, and Hicks said it was "not much of a conversation" so didn't warrant a disclosure to the rest of the Trump transition team.
So said Hope Hicks, who is no better than "Baghdad Sean" Spicer with the truth.
The Washington Post now reports, Explanations for Kushner's meeting with head of Kremlin-linked bank don't match up:
The White House and a Russian state-owned bank have very different explanations for why the bank's chief executive and Jared Kushner held a secret meeting during the presidential transition in December.
The bank maintained this week that the session was held as part of a new business strategy and was conducted with Kushner in his role as the head of his family's real estate business.
The White House says the meeting was unrelated to business and was one of many diplomatic encounters the soon-to-be presidential adviser was holding ahead of Donald Trump's inauguration.
The contradiction is deepening confusion over Kushner's interactions with the Russians as the president's son-in-law emerges as a key figure in the FBI's investigation into potential coordination between Moscow and the Trump team.