Attorney General Jefferson Beauregard Sessions III and President Donald J. Trump believe Richard Nixon's formulation that "When the president does it, that means that it is not illegal".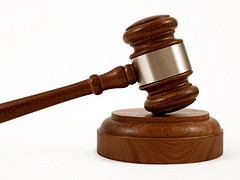 Even a child with a fifth grade civics education knows that this is not true.
Today U.S. District Judge William Orrick III of San Francisco issued a nationwide preliminary injunction (.pdf) against Trump's recent executive order seeking to coerce punish "sanctuary cites."
The Trump administration is now "oh for" in repeated immigration executive orders because they keep violating the constitution. Add this to his "100 days" list of failures.
The San Francisco Chronicle reports, Judge says Trump can't punish cities over sanctuary city policies:
President Trump can't coerce "sanctuary cities" like San Francisco to cooperate with immigration officers by withdrawing all of their federal funds, a federal judge ruled Tuesday.
In the first legal test of an executive order Trump issued five days after taking office, U.S. District Judge William Orrick III of San Francisco said the president was exceeding his constitutional authority by trying to punish local governments that disagreed with his immigration policies.