Ahead of Thursday's farcical vote to confirm Judge Neil Gorsuch to a stolen Supreme Court seat, for which Judge Gorsuch will forever be tainted by illegitimacy, Sen. Jeff Merkley held the Senate floor for more than 15 hours to protest Judge Gorsuch: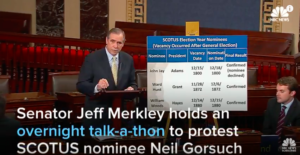 Sen. Jeff Merkley, D-Ore., took to the Senate floor a few minutes before 7 p.m. Tuesday night to protest President Trump's nomination of Judge Neil Gorsuch to the U.S. Supreme Court, vowing to speak "as long as I'm able."
He did so for more than 15 hours, yielding the floor shortly after 10 a.m. Wednesday.
Merkley mounted his demonstration in response to Republicans who refused to consider former President Barack Obama's Supreme Court nominee, Merrick Garland, following the February 2016 death of Justice Antonin Scalia.
"The majority team in this chamber decided to steal a Supreme Court seat," he said. "Such a theft has never, ever happened in the history of our nation."
Republicans argued that neither party should fill a Supreme Court vacancy that opened up during an election year.
Barbara A. Perry, the Miller Professor of Ethics and Institutions and director of presidential studies at U-Va.'s Miller Center: One-third of all U.S. presidents appointed a Supreme Court justice in an election year. Amy Howe of SCOTUSblog, Supreme Court vacancies in presidential election years: There is no "practice of leaving a seat open on the Supreme Court until after the election."