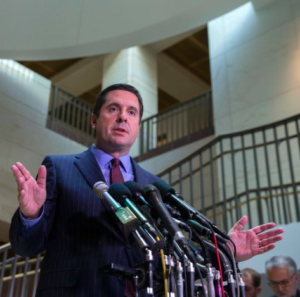 Should Special Counsel Robert Mueller bring charges against Donald Trump and members of his inner circle for a conspiracy to obstruct justice in the Russia investigation, he should include Rep. Devin Nunes (R-CA), chairman of the House Intelligence Committee, for his direct coordination with the White House and the conservative media entertainment complex in manufacturing conspiracy theories with which to discredit the FBI, to misdirect the House Intelligence Committee from its Russia investigation, and to obstruct the Special Counsel investigation into his "Dear Leader," Donald Trump.
Rep. Nunes is back in the news again with a unified theory of the several conspiracy theories he and the Trump White House have manufactured over the past year in a "memo" he has prepared, reportedly based on highly classified information, over which the conservative media entertainment complex are all frothing at the mouth accusing the FBI of criminal misconduct in order to target their "Dear Leader" with the Russia investigation.
POLITICO reports, House Republicans clash over secret memo:
House Republicans are sharply divided over how to handle a classified memo that President Donald Trump's allies say contains explosive details of misconduct by senior FBI and Justice Department officials.
The memo, compiled by House Intelligence Committee chairman Devin Nunes and fellow Republicans on the panel, claims that senior federal officials abused a secret surveillance program, commonly known as FISA, to target the Trump campaign. It also alleges other federal law enforcement wrongdoing that some Republicans insist should lead to the firings of senior officials.