Last Friday the Washington Post reported in cryptic language, Russia probe reaches current White House official, people familiar with the case say: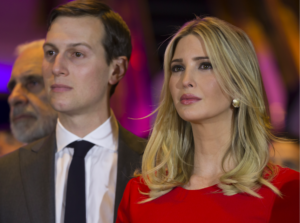 The law enforcement investigation into possible coordination between Russia and the Trump campaign has identified a current White House official as a significant person of interest, showing that the probe is reaching into the highest levels of government, according to people familiar with the matter.
The senior White House adviser under scrutiny by investigators is someone close to the president, according to these people, who would not further identify the official.
As I pointed out at the time, this left only one person who fit that description, Trump's son-in-law Jared Kushner.
Sure enough, the Washington Post confirmed last night that its original report was about Jared Kushner, Jared Kushner now a focus in Russia investigation, about the same time that NBC News reported the same. Jared Kushner Under Scrutiny in Russia Probe, Officials Say.
First, The Post:
Investigators are focusing on a series of meetings held by Jared Kushner, President Trump's son-in-law and an influential White House adviser, as part of their probe into Russian meddling in the 2016 election and related matters, according to people familiar with the investigation.
Kushner, who held meetings in December with the Russian ambassador and a banker from Moscow is being investigated because of the extent and nature of his interactions with the Russians, the people said.
The Washington Post reported last week that a senior White House official close to the president was a significant focus of the high-stakes investigation, though it did not name Kushner.