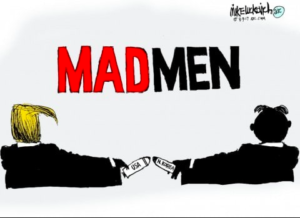 "Kim Jong-un, I respect the fact that I believe he is starting to respect us" –President Donald Trump at his recent Phoenix campaign rally.
This is how much North Korea respects the belicose paper tiger of Donald Trump. In latest test, North Korea detonates its most powerful nuclear device yet:
North Korea sharply raised the stakes in its stand-off with the rest of the world Sunday, detonating a powerful nuclear device that it claimed was hydrogen bomb that could be attached to a missile capable of reaching the mainland United States.
Even if Kim Jong Un's regime is exaggerating its feats, scientific evidence showed that North Korea had crossed an important threshold and had detonated a nuclear device that was exponentially more powerful than its last — and almost seven times the size of the bomb that destroyed Hiroshima.
Tensions had already been running high, with Kim repeatedly defying international condemnation and increasingly blunt warnings by President Trump and continuing to launch ballistic missiles.
But Sunday's blast — North Korea's sixth nuclear test but the first since Trump took office — could escalate those tensions to a new level.