Today at 10:00 a.m., students across Arizona will walkout of their classrooms for a 17 minute vigil in remembrance of the 17 victims of the Marjory Stoneman Douglas High School shooting in Parkland, Florida.
Philip Boas of The Republic writes, Why every adult should support students' March 14 walkout: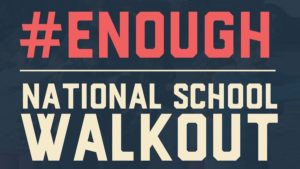 If you believe young people shouldn't be walking out of their classrooms on Wednesday to protest gun violence in America, if you believe this is a waste of precious classroom time and only encourages chaos and defiance …
… you are wrong.
The kids are right.
These young people are citizens of this country, and every citizen has the right to commit acts of civil disobedience in the face of great wrongs.