Please allow me to introduce myself
I'm a man of wealth and taste
I've been around for a long, long year
Stole many a man's soul and faith
* * *
Pleased to meet you
Hope you guess my name
But what's puzzling you
Is the nature of my game
Sympathy For The Devil – The Rolling Stones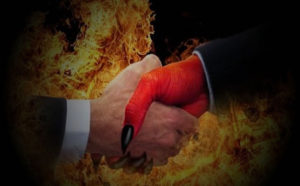 I warned you about making deals with the devil. A DACA deal with 'Amnesty Don'? Don't believe it until it actually happens. One cannot trust anything that a pathological liar says. President Trump has made 1,318 false or misleading claims over 263 days.
This week the Trump administration announced its hostage demands for a DACA deal. Trump administration releases hard-line immigration principles, threatening deal on 'dreamers':
The Trump administration released a list of hard-line immigration principles late Sunday that threaten to derail a deal in Congress to allow hundreds of thousands of younger undocumented immigrants to remain in the country legally.
The administration's wish list includes the funding of a wall along the U.S.-Mexico border, a crackdown on the influx of Central American minors and curbs on federal grants to "sanctuary cities," according to a document distributed to Congress and obtained by The Washington Post.
The demands were quickly denounced by Democratic leaders in Congress who had hoped to forge a deal with President Trump to protect younger immigrants, known as "dreamers," who were brought to the United States illegally as children.