Howard Fischer reports on an analysis by Arizona's AHCCCS office. Analysis: Senate health-care plan could cost Arizona $2.9B or more: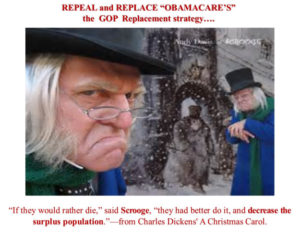 The new Senate health-care plan would cost Arizona at least $2.9 billion between next year and 2026 — and perhaps as much as $7.1 billion — according to a new analysis by the Ducey administration.
Or the state could avoid most of those costs simply by cutting off health care for more than 400,000 who got coverage in 2013 when Arizona took advantage of a provision in the Affordable Care Act — the law Congress is working to repeal.
The analysis by the Arizona Health Care Cost Containment System, the state's Medicaid program, shows the Senate proposal is only marginally better than the one approved by the House. That has an Arizona price tag of $3.3 billion over the same period.
The $2.9 billion is just in lost federal dollars that provide care for nearly 320,000 childless adults with income below the federal poverty level, about $11,800 a year for a single person. Plus, there are another 82,000 adults considered the "working poor," earning up to $16,400 a year, whom the feds would no longer fund.
That's only a piece of the picture.
If federal funding goes away, the assessment on hospitals that lawmakers approved in 2013 to pay the state's costs for those people automatically self-destructs. That means the loss of another $2 billion over the same period, money the taxpayers would have to pick up.
Our lawless Tea-Publican legislature would pass "emergency" legislation to make sure that this does not happen.