The radical GOP House Freedom Caucus continues to aid and abet a conspiracy to obstruct justice in defense of their "Dear Leader." If not indicted by prosecutors, these Republicans need to be removed from office by the voters. America needs to drain the swamp of these traitorous rats.
POLITICO reports, House conservatives prep push to impeach Rosenstein: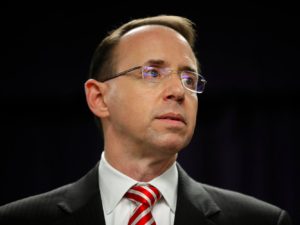 House conservatives are preparing a new push to oust Deputy Attorney General Rod Rosenstein, according to three conservative Capitol Hill sources — putting the finishing touches on an impeachment filing even as Rosenstein announced the indictment of 12 Russian intelligence officers for interfering in the 2016 election.
House Freedom Caucus Chairman Mark Meadows, in fact, had the impeachment document on the floor of the House at the very moment that Rosenstein spoke to reporters and TV cameras Friday.
Conservative GOP lawmakers have been plotting to remove Rosenstein for weeks, accusing him of slow-walking their probe of FBI agents [Peter Strzok and Lisa Page] they've accused of bias against President Donald Trump.
Peter Strzok testified in closed session for 11 hours, and open session this week for almost nine hours. Republicans made fools of themselves in pursuit of their conspiracy theories. Lisa Page testified in closed session on Friday. Former FBI lawyer Lisa Page said to be 'cooperative' during Capitol Hill meeting about anti-Trump texts. The witnesses are cooperating.
What these Trumpkins are actually complaining about is that the Department of Justice and FBI are not turning over prosecutorial evidence in an  ongoing criminal investigation of the Trump campaign — information Congress is not entitled to receive in an open criminal investigation — so that they then can provide the evidence to the Trump defense team and to selectively leak information (as they did with the Strzok and Page emails) to the GOPropagandists at FAUX News aka Trump TV and other right-wing media outlets. This is entirely illegitimate and inappropriate, and constitutes obstruction of justice.