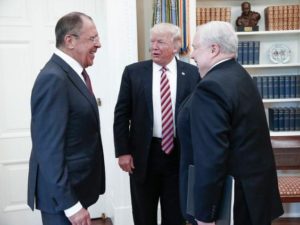 Donald Trump revealed highly classified information to the Russians, in the oval office no less, and his Tea-Publican supporters who chanted "lock her up!" over the mere possibility that Hillary Clinton's emails may have been intercepted by hackers or foreign goverments (there is no evidence this occurred), respond to Trump's gratuitous sharing of highly classified intelligence with his Russian handlers with a 'Seriously? This is Not News':
President Trump disclosed highly classified intelligence to Russian officials in a meeting last week, a government official said on Monday. The disclosure was not illegal, since presidents have the power to declassify nearly anything, but the sharing of sensitive intelligence provided by Israel, one of the United States' most important allies in the Middle East, was disclosed without their permission.
Mr. Trump defended his disclosure on Twitter, saying it was his "absolute right" to do so.
Actually, it's not so clear cut. As Steve Vladeck explains, Trump's disclosures to the Russians might actually have been illegal.
While the sycophant conservative media entertainment complex Spins an Alternative Narrative About the Crises Around Trump to explain away his bizarre behavior, the release of classified intelligence could have very real and dangerous repercussions on national security and the global fight against terrorism, experts told ABC News. High stakes involved in Trump's revelations to Russia:
Danny Yatom, the former director of Israel's spy agency Mossad, warns that even if Trump didn't reveal the source — which McMaster said the president didn't know at the time of the conversation with the Russian officials — or methods of how the U.S. obtained the intelligence, it could still put the source in danger.
"Sometimes damage is caused from the content of the revelation, even if he does not say the methods and sources," Yatom told The Jerusalem Post.
"The fact that you have very high-quality sensitive intelligence can lead to revealing the source. Very few people in ISIS may know about this information. Once it is publicized, ISIS can do an investigation and find the source," Yatom added.