Last Thursday, President Trump told Defense Secretary Jim Mattis and his top generals in a White House meeting that he wanted military options for North Korea at a "much faster pace." Mattis urges military 'to be ready' with options on North Korea.
On Thursday evening, Trump with a group of military families and made a cryptic comment that this was "the calm before the storm." What Did President Trump Mean by 'Calm Before the Storm'?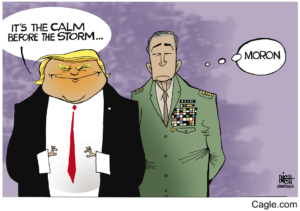 President Trump was clearly looking to make some kind of news, but about what, exactly, was not clear.
* * *
Mr. Trump summoned reporters who were still at work to the State Dining Room, where he was throwing a dinner for military commanders and their spouses.
Gesturing to his guests, he said, "You guys know what this represents? Maybe it's the calm before the storm."
"What's the storm?" asked one reporter.
"Could be the calm before the storm," Mr. Trump repeated, stretching out the phrase, a sly smile playing across his face.
"From Iran?" ventured another reporter. "On ISIS? On what?"
"What storm, Mr. President?" asked a third journalist, a hint of impatience creeping into her voice.
When pressed to explain what he meant, Trump said: "You'll find out."