This week Trump's National Security Advisor, retired Lt. Gen.Michael Flynn, took a break from his regular stint on Russia Television (RT) to announce that the Trump administration is putting Iran "on notice" for a recent ballistic missile test.
"On notice" is not a diplomatic term of art, and no one knows what it means. Team Trump puts Iran 'on notice,' won't explain what that means: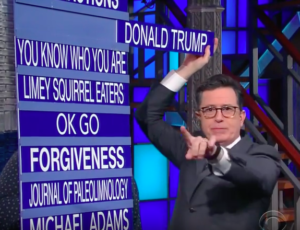 The trouble is, no one seems able to say what "on notice" means in the context of U.S. foreign policy. Sure, we remember Stephen Colbert's "on notice" board, but when it comes to the White House, it remains an unexplained mystery.
* * *
Note, among those who are confused is CentCom. "We saw the statement as well," a spokesman for U.S. Central Command, which runs operations in the Middle East, told The Guardian. "This is still at the policy level, and we are waiting for something to come down the line. We have not been asked to change anything operationally in the region."
So, the rookie White House is making vague pronouncements about the Middle East, while the amateur president tweets recklessly and his administration says nothing to the military personnel who need a heads-up about such things.
Stephen Colbert is sick of Donald Trump stealing his act, so he brought out the "On Notice" board and put the President on notice.