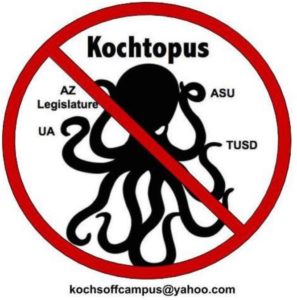 When the Arizona Legislature concluded its 2018 legislative session, its $10 million budget increase for the three state universities (Arizona State University, University of Arizona, and Northern Arizona University) included $2 million for two schools:
One at the University of Arizona (Department of Political Economy and Moral Sciences)
The other at Arizona State University (School of Civic and Economic Thought and Leadership), the later school receiving $100,000 to develop K-12 Civic standards.
With each school receiving $1 million, the three universities had just $8 million in increased funding to spread out over the many programs offered at their campuses. What makes these two schools deserving of such targeted generosity by the State Legislature? Was there a grassroots drive by parent, student, faculty, or administrative groups calling for funding these centers?
No. There was no such movement.
Are these schools offering courses that are not readily accessible at other departments or schools like history or political science?
Not really.
Do the universities conduct nationally-competitive searches to staff these schools? Their recruitment apparently did not follow standard University hiring practices.
Is a  new K-12 "seal" of civic literacy necessary? Not when the Department of Education is in the process of finalizing new Social Studies standards that include civics and economics.
Preferential taxpayer funding
So, why do these two schools get such preferential taxpayer funding and staffing consideration if there is no need and there has been no grassroots desire from the university stakeholders? It is because these schools subscribe to the philosophical dogma and patronage of the Koch Brothers, that they receive the favorable consideration of conservative lawmakers in this and other states across the country at the expense of other funds that could go towards education or priorities like Medicaid and hospital care.
Since the 1970's, the Koch Brothers, like other advocacy groups, have been utilizing their financial clout to promote their ideological agenda in the political, economic, and educational arenas. To that end, they have been subsidizing political candidates and "Freedom Schools," and other educational programs at learning institutions like George Mason University, Florida State University, The University of Kansas, and Ball State. The University of Arizona and Arizona State University are recent additions to the Freedom School Ledger. Another university, Montana State, has voted not to join this network.