The  tragedy of the  political career of John McCain is that he is a man who frequently espouses high morals and principles and assails others for not having them, McCain: Trump doesn't have any 'principles and beliefs', but he has regularly failed to live up to the very principles which he espouses. He is ultimately a "say anything" politician who plays to his fawning base, the beltway media and Arizona media, who treat him as if he is a senior statesman. McCain is and has always been nothing but a deeply flawed hypocrite.
On the same day McCain criticized our Twitter-troll-in-chief for not having any principles and beliefs, McCain demonstrated that he does not follow his own principles and beliefs, recently expressed in his August op-ed John McCain: It's time Congress returns to regular order and his dramatic floor speech in the Senate chastising his colleagues prior to the vote on the "skinny repeal" of Obamacare.
Mr. "regular order" gave his consent to the Senate GOP tax bill which at this very moment is still being drafted with provisions no one has seen or read, a tax bill which Senate GOP leadership drafted in secret without Democratic input, committee hearings, stakeholder or public testimony or input (both stakeholders and the public are opposed to this terrible bill), and was just introduced last week, with only a markup before the Senate Finance Committee which reported out the bill on a party-line vote, so that it could be rushed to a vote by the end of this week before anyone could discover what is in it.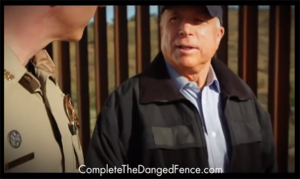 As Laurie Roberts of The Republic laments, John McCain's support of tax reform bill is another 'danged fence' moment. Even when confronting his own mortality and having to answer before his God, John McCain simply would not do the right thing for the American people.
Other key developments in the GOP tax bill on Thursday: the congressional Joint Committee on Taxation (JCT), employing magic asterisk dynamic scoring sprinkled with "trickle down" fairy dust, nevertheless says the Senate tax bill will add $1T to deficits, even with growth:
The Senate GOP tax bill won't produce enough economic growth to fully pay for its tax cuts, the Joint Committee on Taxation (JCT) said in an analysis released Thursday.
The bill's macroeconomic effects would reduce the deficit by $408 billion over 10 years, but the bill overall would still cost about $1 trillion, the JCT said.
The JCT had earlier estimated that the bill would lose $1.4 trillion in federal revenue before accounting for economic growth.