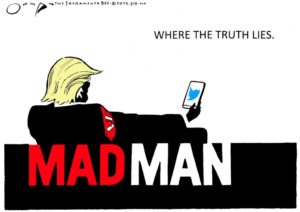 As I posted yesterday, the Trump administration is seeking to discredit anyone in the chain of investigators investigating the Trump campaign and his financial connections to Russia in order to provide grist to the conservative media entertainment complex to wage a propaganda campaign against Special Counsel Robert Mueller and his team of investigators, for the purpose of laying the groundwork for Trump's eventual move to a "Saturday Night Massacre" and finding someone at the Justice Department to "Bork" (fire) Robert Mueller.
Trump is also working on a "get out of jail free" card by having his lawyers explore the parameters of his issuing a presidential pardon to his ne'er-do-well family of grifters and con men, and more importantly, to himself.
If Trump is as innocent as he claims, he would be cooperating with Congress and the Justice Department to resolve this matter as quickly as possible to clear his name. He would not be going to war with his own Department of Justice. Trump is plainly behaving as a man who has something to hide.
The Washington Post reports, Trump team seeks to control, block Mueller's Russia investigation:
Some of President Trump's lawyers are exploring ways to limit or undercut special counsel Robert S. Mueller III's Russia investigation, building a case against what they allege are his conflicts of interest and discussing the president's authority to grant pardons, according to people familiar with the effort.
Trump has asked his advisers about his power to pardon aides, family members and even himself in connection with the probe, according to one of those people. A second person said Trump's lawyers have been discussing the president's pardoning powers among themselves.
One adviser said the president has simply expressed a curiosity in understanding the reach of his pardoning authority, as well as the limits of Mueller's investigation.
"This is not in the context of, 'I can't wait to pardon myself,' " a close adviser said.