Dana Milbank of the Washington Post had an interesting piece about the moral decay of the GOP the other day, Republicans redefine morality as whatever Trump does: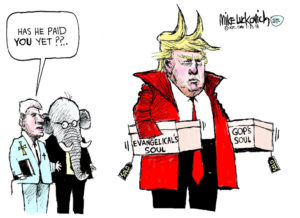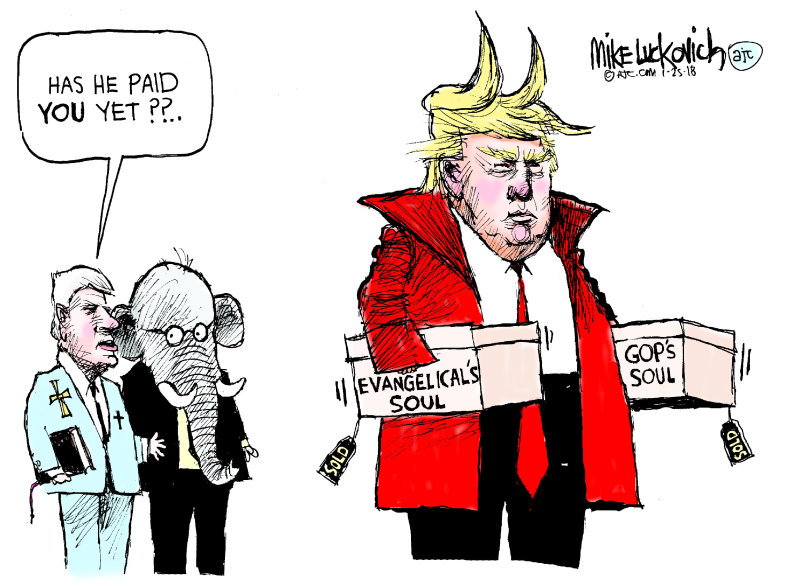 New evidence suggests that the damage [Trump] is doing to the culture is bigger than the man. A Quinnipiac University poll released Thursday found that two-thirds of Americans say Trump is not a good role model for children. Every component of society feels that way — men and women, old and young, black and white, highly educated or not — except for one: Republicans. By 72 to 22 percent, they say Trump is a good role model.
In marked contrast to the rest of the country, Republicans also say that Trump shares their values (82 percent) and that — get this — he "provides the United States with moral leadership" (80 percent).
And what moral leadership this role model has been providing!
* * *
[L]et's see what might have led 72 percent of Republicans to conclude Trump is a good role model:
His lawyer arranged to make payment to a porn star, Stormy Daniels, a month before the election for her silence about an alleged sexual encounter with Trump, according to the Wall Street Journal.
He used a vulgar word to describe African countries during a racist rant to lawmakers at the White House.
He was mounting a campaign to discredit the "corrupt" FBI, the Justice Department and the special prosecutor, just as he previously sought to disqualify courts and judges.
He backed a credibly accused child molester for the Senate from Alabama.
And so on.