The Washington Post editorial states it concisely, The Trump administration created this awful border policy. It doesn't need Congress to fix it. As Senator Lindsey Graham said, pick up the damn phone and make the call.
But as the New York Times interview with White House crypto-fascist white nationalist adviser Stephen Miller makes abundantly clear about what is happening, "they want this" (h/t graphic: Rachel Maddow Show). How Anti-Immigration Passion Was Inflamed From the Fringe: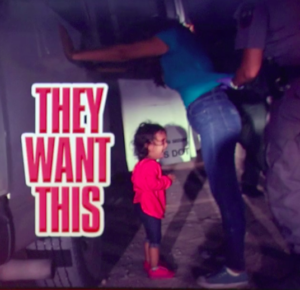 It was Jeff Sessions who ordered prosecutors to take a new "zero tolerance" attitude toward families crossing into the United States, part of his plans to reshape the country's law enforcement priorities to limit immigration. It is Stephen Miller who has championed the idea inside the White House, selling President Trump on the benefits of a policy that his adversaries have called "evil," "inhumane" and equivalent to child abuse or the internment of Japanese-Americans during World War II.
* * *
Asked if the images of children being taken from their parents would eventually make the president back down, Mr. Miller was adamant.
"There is no straying from that mission," he said.
* * *
In the recent interview, Mr. Miller dismissed as ignorant the hand-wringing of Republicans about the family separation controversy.
"You have one party that's in favor of open borders, and you have one party that wants to secure the border," Mr. Miller said. "And all day long the American people are going to side with the party that wants to secure the border. And not by a little bit. Not 55-45. 60-40. 70-30. 80-20. I'm talking 90-10 on that."