Things may get very real very fast on the Korean peninsula this weekend. The hermit kingdom of North Korea is about to celebrate a birthday bash on Saturday, with a nuclear test for the candle on the birthday cake. A U.S. Navy strike group is patrolling off the coast of North Korea to snuff out their birthday candle should they try to light it. If this scenario plays out, we are going to need a lot more than Team America: World Police.
The Los Angeles Times has a good introduction in North Korea says it's ready for war, but Pyongyang remains a city of orderly calm: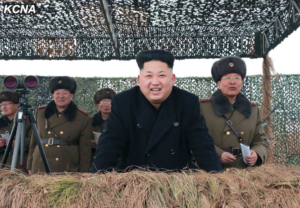 North Korea is expected to test a missile or nuclear weapon as early as Saturday — the 105th birthday of the country's late founder Kim Il Sung — and anxiety is mounting.
President Trump has moved a Navy strike group to the Korean peninsula. Vice President Mike Pence was scheduled to travel to South Korea on Saturday. Japan has issued a warning over North Korea's suspected chemical weapons capabilities, with officials in Tokyo discussing how to evacuate the country's 60,000 citizens from North Korea.
Chinese foreign minister Wang Yi warned Friday morning of "storm clouds" gathering over the Korean peninsula, saying that "tit-for-tat threats between the United States and North Korea with daggers drawn has created a dangerous situation worthy of our vigilance."
In Pyongyang, vice minister Han Song Ryol accused the United States of fomenting the trouble and vowed, "We will go to war if they choose.''
NBC News reports, U.S. May Launch Strike if North Korea Reaches for Nuclear Trigger:
The U.S. is prepared to launch a preemptive strike with conventional weapons against North Korea should officials become convinced that North Korea is about to follow through with a nuclear weapons test, multiple senior U.S. intelligence officials told NBC News.
North Korea has warned that a "big event" is near, and U.S. officials say signs point to a nuclear test that could come as early as this weekend.