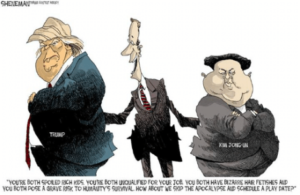 With a White House in chaos led by the impulsive egomaniacal man-child Twitter-troll-in-chief, Trump is about to meet his first serious foreign policy/national security challenge from his equally deranged egomaniacal man-child doppelgänger Kim Jong Un of North Korea.
What could possibly go wrong?
North Korean leader Kim Jong Un said Saturday North Korea's 2nd intercontinental ballistic missile test puts much of U.S. in range: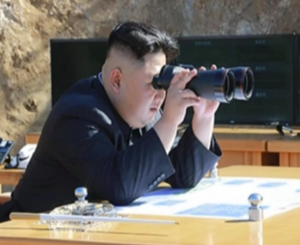 [H]ours after the launch left analysts concluded that a wide swath of the United States, including Los Angeles and Chicago, is now in range of North Korean weapons.
The Korean Central News Agency said that Kim expressed "great satisfaction" after the Hwasong-14 missile reached a maximum height of 3,725 kilometers (2,314 miles) and traveled 998 kilometers (620 miles) before accurately landing in waters off Japan. The agency said that the test was aimed at confirming the maximum range and other technical aspects of the missile it says was capable of delivering a "large-sized, heavy nuclear warhead."