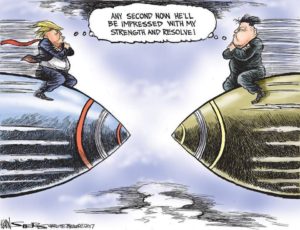 North Korea has yet another anniversary on Tuesday, the founding of its military, and the world appears to be on edge today in anticipation that North Korea will test a nuclear weapon on Tuesday and Donald Trump, who opted for a brinksmanship foreign policy, will be forced to respond with a military strike as he said he would in order to to save face and to demonstrate 'resolve" — renewing the Korean war, with massive civilian casualties as a predictable consequence.
There are some troubling headlines today. President Trump to host unusual meeting with UN Security Council:
President Trump will host members of the United Nations Security Council at the White House Monday, a highly unusual meeting made even more startling because of his harsh criticism of the international institution during the campaign and since taking office.
U.S. Ambassador to the UN Nikki Haley is serving this month as the President of the Security Council, a role that rotates each month among the five permanent members: the U.S., Great Britain, France, China and Russia.
* * *
Haley will be attending before the group returns to New York for scheduled Security Council meetings on Tuesday.