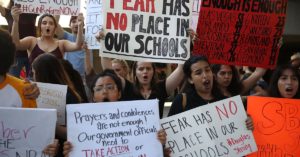 Our Koch-bot Governor Ducey announced his long-awaited plan for gun safety in our schools yesterday. It is essentially to "harden" schools with more people armed with guns on campus — exactly the opposite of what student activists are calling for — and to throw a little bit more money at school counselors. This is essentially the NRA plan, short of arming classroom teachers, which Ducey says he opposes.
Ducey's plan does include a twist, likely to be opposed by gun rights absolutists like the Arizona Citizens Defense League and the NRA: Ducey is supporting a version of the severe threat order of protection to remove guns from individuals who pose a danger to themselves and to others. This is a much needed change in the law, and I applaud him for finally coming around to see the light on this issue.
But the question remains, however, how much influence will the governor have with extremist Tea-Publicans in the Arizona legislature to actually pass this STOP order provision? He will have Democratic votes for this provision and needs to bring along enough Tea-Publicans to form a majority in each chamber.
The Arizona Capitol Times reports, Ducey school-shooter proposal adds cops, mental-health services to campuses:
Gov. Doug Ducey proposed boosts to mental health services at schools, a greater law enforcement presence on school campuses and fixing some, but not all, loopholes in background checks on gun sales in response to a mass shooting a month ago in Florida.
Ducey's plan, which he'll need to convince the state Legislature to approve, focuses on school safety following the shooting at Marjory Stoneman Douglas High School in Parkland. It includes some new dollars to help pay for school psychiatrists, a program that would allow former cops to act as armed, volunteer security guards at schools, and an unspecified amount of state funding to help more schools hire school resource officers.
So far, this is in line with the NRA plan. But here is a twist:
It also provides an opportunity to have guns seized from people deemed to be a danger to themselves or others, a legal process Democrats in Arizona have been calling for all legislative session.