James Bruno, a former U.S. diplomat, writes at the Political Animal blog, Tinker. Tailor. Mogul. Spy?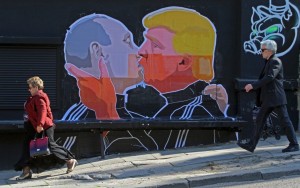 The United States has just endured a carefully planned, well-orchestrated assault against its democratic form of government in the form of a grand cyber-theft of information and targeted release of that information. After a thorough scrub of available intelligence, seventeen U.S. intelligence agencies concluded unanimously that "Russian President Vladimir Putin ordered an influence campaign in 2016 aimed at the U.S. presidential election. Russia's goals were to undermine public faith in the U.S. democratic process, denigrate Secretary Clinton, and harm her electability and potential presidency. We further assess Putin and the Russian Government developed a clear preference for President-elect Trump. We have high confidence in these judgments.
* * *
But if Russia's role in the 2016 election is basically undisputed, we're still left with a separate, more troubling question for which there isn't yet a clear answer: Could Donald Trump actually be a Russian intel asset?
The U.S. intelligence chiefs steered clear of this hot potato conjecture. Supporting the case in favor is Trump's bizarre screeds against the U.S. intelligence community and his equally head-scratching and consistent praise of Vladimir Putin even as his nominees to head the CIA and Defense Department describe Moscow as a threat. "In the intelligence business, we would say that Mr. Putin had recruited Mr. Trump as an unwitting agent of the Russian Federation," former acting CIA Director Michael Morell wrote in the New York Times. An "unwitting agent" or "asset" in spy parlance is an individual who serves the interests of a foreign government without fully realizing it, or, what Lenin liked to call, a "useful idiot." A "witting" asset is one who knows fully what he is doing.