Evil GOP bastard Mitch McConnell is forcing a procedural vote today to advance an "Obamacare" repeal and "Trumpcare" replacement, even though there is no bill that senators have had a chance to read and review, even as late as this morning.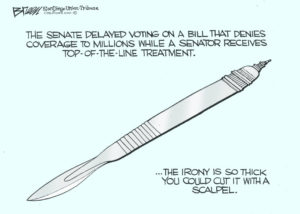 Adding to the drama, Sen. John McCain, recently diagnosed with brain cancer, is flying back to Washington for the vote so that he can cast a vote to take health care away from 20-30 million Americans, including more than 400,000 of his own Arizona constituents. It takes a real "hero" to do that.  He will also vote to blow up the health insurance markets by reintroducing segregation of the health insurance market, one for the young and healthy, and one for the old and sick with pre-existing conditions, with higher deductibles and premiums that make health insurance unaffordable to the latter group. All for the purpose of giving the wealthiest Americans another undeserved tax break (the real purpose of these GOP bills). Such a "maverick" from a man who enjoys the best health care in the world. Cynical old bastard.
The New York Times reports, Senate Braces for Health Showdown With McCain on Hand but a Plan Unclear:
Senate Republican leaders, keeping alive their push to dismantle the Affordable Care Act, are barreling toward a showdown vote on Tuesday to begin debating a repeal of the health law. And Senator John McCain announced Monday night that he will be on hand to cast his vote, despite a diagnosis of brain cancer.
Before Mr. McCain, an Arizona Republican, announced that he was jetting in to cast what is expected to be a vote in favor of starting debate, President Trump spent Monday ratcheting up pressure on Republican senators to get onboard. Mr. Trump criticized their inaction and warned that they risked betraying seven years' worth of promises to raze and revamp the health law if they did not.
* * *
Tom Perez, the Democratic National Committee chairman, countered, "No matter how many ways President Trump tries to twist or hide the truth, the facts won't change: The Affordable Care Act has been a lifesaver for millions of Americans."