President Donald Trump gave a remarkable interview to the New York Times yesterday in which he signaled time bombs that will go off in the days and weeks ahead. Citing Recusal, Trump Says He Wouldn't Have Hired Sessions: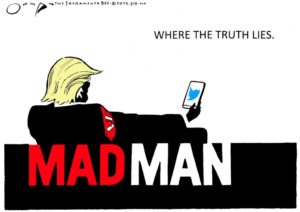 President Trump said on Wednesday that he never would have appointed Attorney General Jeff Sessions had he known Mr. Sessions would recuse himself from overseeing the Russia investigation that has dogged his presidency, calling the decision "very unfair to the president."
In a remarkable public break with one of his earliest political supporters, Mr. Trump complained that Mr. Sessions's decision ultimately led to the appointment of a special counsel that should not have happened. "Sessions should have never recused himself, and if he was going to recuse himself, he should have told me before he took the job and I would have picked somebody else," Mr. Trump said.
OK, two things. Sen. Sessions meetings with the Russian ambassador were not discovered and reported until after his Senate confirmation hearing, making him a potential fact witness and creating a potential conflict of interest which triggered his ethical obligation to recuse himself from the investigation. He could not have told Trump before he took the job that he would recuse himself under this timeline.
Second, Jeff Sessions serves at the pleasure of the president and has previously offered his resignation when the president expressed a lack of confidence in him. In an unprecedented move, Sessions now has been publicly undermined by the president who says he regrets hiring him. Session must resign, and he should do so today if he has any self-respect.
Actually there is a third point, Trump is expressing his view that he wanted an attorney general who would block and deflect any inquiries into his campaign's coordination with the Russians, signaling that he believes the attorney general is loyal to him personally, and thus rejecting the independence of the Justice Department. See, Trump shows disdain for rule of law with new attacks on Sessions, Rosenstein, Mueller. Update, President Trump's Contempt for the Rule of Law.