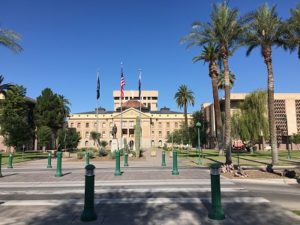 Over at the madhouse on Washington Street, i.e., the Arizona legislature, they have been teasing the possibility of a budget deal all week.
Their problem is that the budget is tied to Governor Doug Ducey's unpopular bonding plan for the state universities to avoid having to rise taxes as the Arizona Constitution requires.  And that plan is in trouble. Lawmakers, governor move closer to a budget deal, including university bonding:
[T]he earliest budget bills could clear the Legislature and be sent to the governor's desk for a signature is now Thursday. According to the Arizona Constitution, budget bills must be read in three calendar days. Budget proposal to be debated Thursday.
Budget documents used to brief GOP lawmakers, obtained by the Arizona Capitol Times, reveal a tentative deal that gives Ducey much of what he asked for, including a host of new initiatives to boost K-12 funding, new school construction and maintenance dollars, and money for a two percent teacher pay raise over two years.
It also appears that a deal struck that governor's university bonding proposal, a sticking point, has ended the stalemate at the Capitol.
The university bonding plan was pitched by the Arizona Board of Regents as a mechanism that would allow universities to keep the sales taxes they would ordinarily pay to the state, which they would then use to borrow up to $1 billion. In Fiscal Year 2018, the sales tax was estimated to be $30.3 million from the state's share, and nearly $7 million from the cities and counties' share. Critics of the plan, who included several GOP lawmakers, questioned how much the pot of sales tax money would grow each year, and worried about its impact on cities and counties.