It was recently reported that "State support for students at Arizona's three public universities has fallen by 53.8 percent since 2008, more than three times the national decline over the same period, according to a new report." Arizona cuts to college student support still among steepest in nation: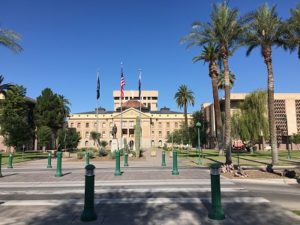 The Center on Budget and Policy Priorities said the Arizona cuts were the most extreme example of a national trend that has seen a total reduction in state aid of nearly $9 billion over the 10 years, as states scrambled to close budget gaps caused by the recession.
Despite efforts by states in recent years to reverse the trend – including in Arizona, where state support per student rose 4.25 percent last year – the report's authors said they worry that those increases are slowing down.
"The clear majority of states have been reinvesting and that has been a broad trend over the past few years," said Michael Mitchell, a senior policy analyst at the CBPP, in a call on the Wednesday report.
"But there are indications that we can see that this reinvestment is trailing off and the amount of reinvestment that we've seen over the past few years just hasn't been enough to make up for the drastic magnitude of cuts over the time period we're looking at," he said.
Those cuts average 16 percent per student nationally since 2008, the report said.
Arizona's 53.8 percent reduction was largest in the nation, with Louisiana next-closest with a 44.9 percent reduction. In terms of an actual dollar reduction, however, Arizona's per-student cut of $3,450 was fourth-highest, behind Louisiana, New Mexico and Alabama.
While the cuts have been partially offset by increases in federal aid – an average Pell grant grew 23 percent during the period – steady increases in tuition continue to make college unaffordable for many, according to the report.
"We have seen increases in federal student aid, but in states where tuition costs have increased rapidly those additional federal investments have not kept up with rising college costs," Mitchell said. "The net cost of attendance has increased even for low-income students at four-year colleges.