Wednesday's National School Walkout event at the Arizona Capitol culminated in a two-hour sit-in at the office of Gov. Doug Ducey, who did not come out to meet with the students. Montini: Gov. Doug Ducey disses student protesters … lesson learned.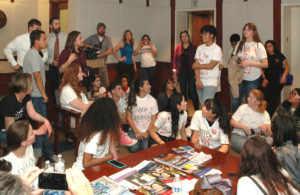 Gov. Ducey has said he is meeting with various interest groups – not high school students, obviously – and has promised to come up with his own legislative proposals, possibly as early as next week. The governor has hinted that could include something similar to Rep. Randy Friese's bill on emergency seizure of weapons.
Emulating our Twitter-troll-in-chief, on Thursday Arizona Gov. Doug Ducey goes on tweetstorm over gun control, one day after student sit-in:
Gov. Doug Ducey said Thursday that his plan to improve school safety in Arizona could include tighter gun laws in several areas, a surprising move for a Republican governor in a red state.
In a flurry of afternoon tweets, Ducey outlined what his office said will be the basic components of his plan. Ducey said he is working on a bipartisan bill to tackle the issue.
"We are building an aggressive plan that address all these issues around school safety," he tweeted. "Arizona can lead the nation in tackling this — and in a way that is non-partisan. We've done this on other issues, and we can do it again."
Ducey's posts came less than 24 hours after students from the group March for Our Lives Phoenix staged a dramatic sit-in outside his office.
Ducey did not meet with the students, but has talked with other interest groups in recent weeks.