Any number of commentators have described Donald Trump as exhibiting narcissistic personality disorder. Nigel Barber at Psychology Today explained it this way. Does Trump Suffer from Narcissistic Personality Disorder?
Professional psychiatrists, and psychotherapists, are loath to go on record saying that Trump has a psychiatric disorder on the premise that one cannot do a diagnosis without an office visit and most narcissists are quite unlikely to recognize that they have a problem and to schedule an appointment.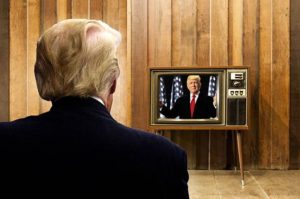 Fortunately, the DSM is written so clearly, and so simply, that the diagnosis is transparent. Here are the symptoms.
According to DSM-5, individuals with NPD have most (at least five) or all of the symptoms listed below (generally without commensurate qualities or accomplishments).
1 Grandiosity with expectations of superior treatment by others.
2 Fixated on fantasies of power, success, intelligence, attractiveness, etc.
3 Self-perception of being unique, superior, and associated with high-status people and institutions.
4 Needing constant admiration from others.
5 Sense of entitlement to special treatment and to obedience from others.
6 Exploitative of others to achieve personal gain.
7 Unwilling to empathize with others' feelings, wishes, or needs.
8 Intensely jealous of others and the belief that others are equally jealous of them.
9 Pompous and arrogant demeanor.
Wow, nine for nine! "For those that are clearly relevant, he checks out on all symptoms, it seems. According to DSM criteria, Donald Trump suffers from narcissistic personality disorder."