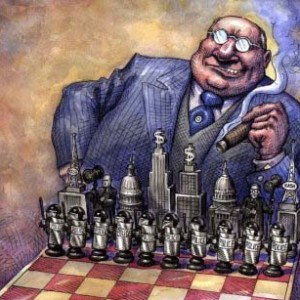 The Chamber of Commerce organizations got their lickspittle servants in our Tea-Publican controlled legislature and our "Koch-bot" governor to do their bidding in making it damn near impossible for citizens to exercise their constitutional right to make laws by citizens initiative. Buying a legislature and governor to do your bidding is the exclusive provence of our Plutocratic corporate overlords, and you will obey!
But now that this no good horrible legislative session is coming to an end, Former Attorney General Grant Woods and former Phoenix Mayor Paul Johnson are heading up a referendum campaign to refer up to three pieces of anti-citizen initiative legislation to the 2018 ballot.
Laurie Roberts of The Republic writes, Group filing to block initiative laws:
Memo to Gov. Doug Ducey and all of our esteemed leaders who worked so diligently this year to undermine one of our basic constitutional rights:
Not so fast.
Next week begins the citizen drive to overturn your efforts to make it more difficult, if not impossible, for Arizonans to exercise their right to make laws via initiative.
Voters of Arizona, a group headed by former Attorney General Grant Woods and former Phoenix Mayor Paul Johnson, are filing paperwork this week to block all three new laws from taking effect until voters can decide their fate in November 2018. The group also plans to file a lawsuit challenging two of the three bills.