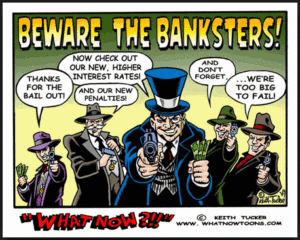 Only a decade after the banksters of Wall Street engaged in  casino capitalism and the largest fraud ever perpetrated in human history, nearly destroying the world's financial system and causing the Great Recession, the banksters of Wall Street have reasserted their stranglehold over members of the U.S. Congress.
In a 67-31 vote, the U.S. Senate approved the most sweeping changes yet to Dodd-Frank that have earned bipartisan support. All present Republicans and 16 Democrats and Independent Angus King voted to approve the measure, sending it to the House.
Bennet (D-CO), Carper (D-DE), Coons (D-DE), Donnelly (D-IN), Hassan (D-NH), Heitkamp (D-ND), Jones (D-AL), Kaine (D-VA), Manchin (D-WV), McCaskill (D-MO), Nelson (D-FL), Peters (D-MI), Shaheen (D-NH), Stabenow (D-MI), Tester (D-MT), Warner (D-VA); King (I-ME).
The Washington Post reports, Senate passes rollback of banking rules enacted after financial crisis:
The Senate on Wednesday passed the biggest loosening of financial regulations since the economic crisis a decade ago, delivering wide bipartisan support for weakening banking rules despite bitter divisions among Democrats.
The bill, which passed 67 votes to 31, would free more than two dozen banks from the toughest regulatory scrutiny put in place after the 2008 global financial crisis. Despite President Trump's promise to do a "big number" on the Dodd-Frank Act of 2010, the new measure leaves key aspects of the earlier law in place. Nonetheless, it amounts to a significant rollback of banking rules aimed at protecting taxpayers from another financial crisis and future bailouts.