Earlier this week, Russian President Vladimir Putin trolled Donald Trump, Offering to Provide a 'Record' of Trump's Disclosures to Russian Envoys: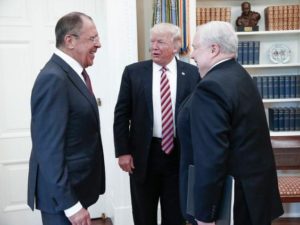 President Vladimir V. Putin on Wednesday jumped into the furor over President Trump's disclosure of classified information to Russian diplomats, declaring that nothing secret had been revealed and that he could prove it.
Mr. Putin [said] that he has a "record" of the American president's meeting at the White House with two senior Russian officials and was ready to give it to Congress — so long as Mr. Trump does not object.
It turns out that the White House has its own "record" of the meeting, which has not been made public. Trump's disclosure of highly classified intelligence from Israel to the Russians is not the only reason, we now learn.
The New York Times reports, Trump Told Russians That Firing 'Nut Job' Comey Eased Pressure From Investigation:
President Trump told Russian officials in the Oval Office this month that firing the F.B.I. director, James B. Comey, had relieved "great pressure" on him, according to a document summarizing the meeting.
"I just fired the head of the F.B.I. He was crazy, a real nut job," Mr. Trump said, according to the document, which was read to The New York Times by an American official. "I faced great pressure because of Russia. That's taken off."
Well there is an admission against interest that is probative of the element of intent in an obstruction of justice charge.