Donald Trump treats his White House Communications Director Hope Hicks like a daughter (he affectionately calls her "Hopey"). There is no one Trump trusts more.  Hicks is his longest-serving aid whom he brought with him from his company. Pundits commenting on Hicks' loyalty to Trump joked that she would be there to "turn the lights out when the Trump administration ends."
Earlier this week, "White House communications director Hope Hicks refused to answer questions about the Trump administration that House investigators posed Tuesday as part of their probe of Russian interference in the 2016 election." In Russia probe, Hope Hicks refuses to answer questions about Trump administration: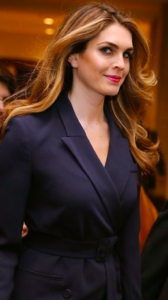 But under pressure from lawmakers, she began to offer some details about the transition period Tuesday afternoon, according to House Intelligence Committee members of both parties, who said Hicks and her attorneys agreed to address topics broached with the Senate Intelligence Committee in an earlier private interview.
Democrats and Republicans emerging from the House Intelligence Committee's interview with Hicks on Tuesday noted that, at first, she categorically resisted answering any questions about events and conversations that had occurred since President Trump won the election, even though Trump has not formally invoked executive privilege with the panel.
"No one's asserting privilege; they're following the orders of the White House not to answer certain questions," said Rep. Mike Quigley (D-Ill.), a committee member, after the interview had been going for about four hours.
"There's no hope to get all our answers," he added, noting the pun and adding: "Tip your servers."