Back in June, a bipartisan Senate majority easily approved legislation imposing new sanctions on Russia in response to Russia's interference in the U.S. election on a vote of 97 to 2.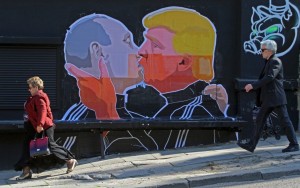 Putin's pal in the White House launched an aggressive push to derail the bill, or to at least water it down considerably in the House.
The White House efforts failed.
Today the House passed a revised Russian sanctions bill on an overwhelming  — and veto-proof — vote of  419-3. That bill now goes back to the Senate where it is expected to pass by a veto-proof majority, again. What is Putin's pal in the White House  to do? House passes Russia sanctions bill, setting up veto dilemma for Trump:
The House on Tuesday voted overwhelmingly to advance new financial sanctions against key U.S. adversaries and deliver a foreign-policy brushback to President Trump by limiting his ability to waive many of them.
Included in the package, which passed 419 to 3, are new measures targeting key Russian officials in retaliation for that country's alleged interference in the 2016 presidential election, as well as sanctions against Iran and North Korea in response to those nations' weapons programs.
Members of the Trump administration, including Secretary of State Rex Tillerson, have resisted the congressional push — in particular a provision attached to the Russian measures that would require Congress to sign off on any move to relieve those sanctions.