Nancy Le Turneau at the Political Animal blog ties together several threads to new reporting over the weekend about Donald Trump's son Eric Trump. Did Vladimir Putin Buy Himself a U.S. President?
During the 2016 presidential election, we often heard that Donald Trump filed for bankruptcy several times. As the Washington Post reported, he did so a total of six times.
Trump's Taj Mahal opened in April 1990 in Atlantic City, but six months later, "defaulted on interest payments to bondholders as his finances went into a tailspin," The Washington Post's Robert O'Harrow found. In July 1991, Trump's Taj Mahal filed for bankruptcy. He could not keep up with debts on two other Atlantic City casinos, and those two properties declared bankruptcy in 1992. A fourth property, the Plaza Hotel in New York, declared bankruptcy in 1992 after amassing debt.

PolitiFact uncovered two more bankruptcies filed after 1992, totaling six. Trump Hotels and Casinos Resorts filed for bankruptcy again in 2004, after accruing about $1.8 billion in debt. Trump Entertainment Resorts also declared bankruptcy in 2009, after being hit hard during the 2008 recession.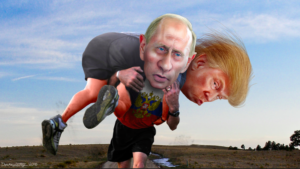 Following that string of bankruptcies in the 1990's, U.S. banks pretty much blackballed the Trump organization, but he rebuilt his financial empire with a heavy reliance on capital from Russia. That is pretty much what Donald Trump, Jr. affirmed in 2008.
"Russians make up a pretty disproportionate cross-section of a lot of our assets," Trump's son, Donald Jr., told a real estate conference in 2008, according to an account posted on the website of eTurboNews, a trade publication. "We see a lot of money pouring in from Russia."