The United States dropped atomic bombs on the Japanese cities of Hiroshima and Nagasaki on August 6 and 9, 1945, respectively. It is the only time that such weapons have been used in war.
Donald Trump, apparently unaware of these historically significant anniversary dates, yesterday threatened North Korea with "fire and fury" — a veiled nuclear threat — if it does not stop threatening the United States.
So now Donald Trump is making the same wild threats that Kim Jong-un and North Korea regularly make? Trump's 'fire and fury' statement echoes North Korea's own threats.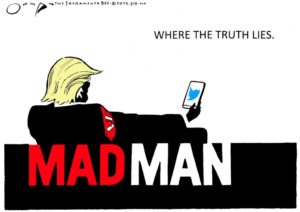 Hours later, Secretary of State Rex Tillerson tried to assuage Americans' fears that a nuclear war with North Korea was imminent.
What is this, good cop bad cop? A return to Richard Nixon's Madman Strategy with Tillerson reprising the role of Henry Kissinger?
The Washington Post reports, As Tillerson tries to assuage Americans' fear, Trump highlights U.S. nuclear arsenal:
Secretary of State Rex Tillerson on Wednesday defended President Trump's forceful warning to North Korea to stop threatening the United States, and dismissed concerns that Guam is in any imminent danger from Pyongyang's missiles.
"What the president is doing is sending a strong message to North Korea in language that Kim Jong Un would understand, because he doesn't seem to understand diplomatic language," Tillerson said in an interview with two pool reporters while flying from Malaysia to a scheduled refueling stop in Guam.
"I think the president just wanted to be clear to the North Korean regime that the U.S. has the unquestionable ability to defend itself, will defend itself and its allies, and I think it was important that he deliver that message to avoid any miscalculation on their part."