When he was confirmed as deputy attorney general and became the acting attorney general for purposes of the Trump-Putin campaign investigation, Rod Rosenstein said he sees no need for a special prosecutor in Russia probe: "One source says Rosenstein isn't inclined to make a change unless the FBI investigation appears to be imperiled."
That was before Donald Trump fired FBI Director James Comey and threw Rod Rosenstein under the bus by initially (falsely) asserting that he was acting on the recommendations of a memo prepared by Rosenstein. Trump blames everyone but himself for his problems. The Justice Department just blamed him. The Justice Department tacity admitted that: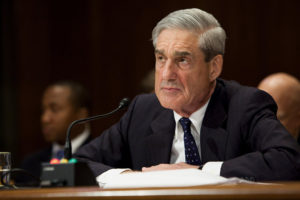 [Trump] had badly damaged the credibility of the FBI's Russia investigation by announcing the probe would now be handled by a special counsel, former FBI director Robert S. Mueller III.
The bombshell revelation represents a startling admission of fault for the administration — if not the White House directly. This was a Justice Department decision about which the White House reportedly learned shortly before it was announced.
"What I have determined is that based upon the unique circumstances the public interest requires me to place this investigation under the authority of a person who exercises a degree of independence from the normal chain of command," Deputy Attorney General Rod J. Rosenstein said in a statement.