I'm not quite sure what to make of this report in the New York Times because I have never seen the Justice Department issue a statement such as this before. Don't Believe Anonymously Sourced Reports, Justice Official Says (this woud put political publications like POLITICO out of business):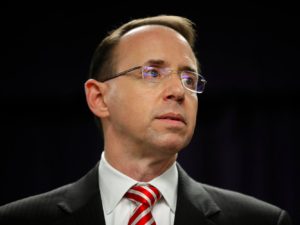 Rod J. Rosenstein, the deputy attorney general, encouraged Americans in a statement issued late Thursday to be "skeptical about anonymous allegations" after a string of recent news reports about the evolving focus of the special counsel's investigation into Russia's election interference and possible collusion with President Trump's associates.
"Americans should exercise caution before accepting as true any stories attributed to anonymous 'officials,' particularly when they do not identify the country — let alone the branch or agency of government — with which the alleged sources supposedly are affiliated," Mr. Rosenstein said in the statement.
He added: "Americans should be skeptical about anonymous allegations. The Department of Justice has a long-established policy to neither confirm nor deny such allegations."
He did not cite specific reports. The Justice Department released Mr. Rosenstein's statement after 9 p.m., a few hours after The Washington Post reported that the special counsel was investigating the business dealings of Jared Kushner, Mr. Trump's son-in-law and adviser. That report was attributed to unnamed American officials.
Asked about the impetus for the statement, a Justice Department spokesman declined to comment. Mr. Rosenstein did not respond to an email seeking comment on Thursday night.
This statement appears directed at reporters covering this scandal. The Times and the Post are not going to disclose their confidential sources, but if reporters are talking to FBI agents or Treasury Department officials in FinCEN about money laundering investigations overseas, or to intelligence officers or their foreign intelligence counterparts in Europe, I would take this as a veiled threat that the FBI may be monitoring reporters communications with their sources overseas. If that is what Rosenstein meant to imply, that is a big effin' deal.