For those Tea-Publicans who have abandoned all reason for blind loyalty to the authoritarian personality cult of Donald J. Trump, and who have convinced themselves that their Dear Leader is either a naife who is innocent of any and all wrongdoing, or is above the law, I would suggest you consider the legal team that Special Counsel Robert Mueller is putting together for his investigation. If there is "nothing to see here," as Trump apologists delusionally assert, Mueller would not be assembling a "dream team" of heavy-hitter prosecutors. He clearly believes that he is sitting on something "yuuuge."
Politico reports, Everything we know about the Mueller probe so far: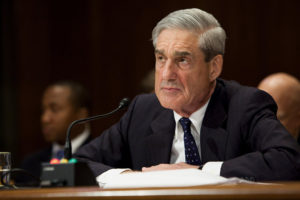 Special counsel Robert Mueller is assembling a prosecution team with decades of experience going after everything from Watergate to the Mafia to Enron as he digs in for a lengthy probe into possible collusion between Russia and President Donald Trump's 2016 campaign.
His first appointments — tapping longtime law-firm partner James Quarles and Andrew Weissmann, the head of the Justice Department's criminal fraud unit — were the opening moves in a politically red-hot criminal case that has upended the opening months of the Trump White House.
* * *
Mueller brings a wealth of national security experience from his time leading the FBI in the aftermath of the Sept. 11, 2001, attacks. Veteran prosecutors say he has assembled a potent team whose members have backgrounds handling cases involving politicians, mobsters and others — and who know how to work potential witnesses if it helps them land bigger fish.