The social media companies Google, Facebook, and Twitter spent the past two days testifying before Congress on how Russian intelligence agencies used their media platforms to engage in a disinformation campaign to disrupt the 2016 election and undermine confidence in the American political system, and are continuing to actively do so.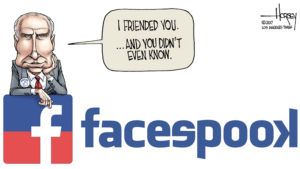 We previously learned that Facebook sold $100,000 in ads to the Russian propaganda troll farm Internet Research Agency, paid for in Rubles no less. Some Facebook ads bought by Russian company may have violated US election law. Nevertheless, Facebook and Google declined under repeated congressional questioning Tuesday to commit to stop taking Russian rubles and other foreign currencies as payment for American political advertisements, despite federal election law prohibiting payments from foreign nationals. Facebook, Google won't commit to stop taking foreign cash for U.S. political ads.
Facebook founder Mark Zuckerberg had initially dismissed the notion that fake news stories proliferated on Facebook to manipulate voters. A preliminary internal investigation by Facebook  reported that Facebook found over 3,000 ads that came from inauthentic accounts linked to a Russian group called the Internet Research Agency that operated between 2015 and 2017. Some 10 million people in the U.S. viewed at least one of those ads, with around 44 percent of those views happening before the Nov. 8, 2016 election. 10 million saw Facebook political ads posted from Russia-linked fake accounts. Prior to this week's congressional testimony, that number was dramatically revised upward. Russian fake accounts showed posts to 126 million Facebook users:
As many as 126 million people — or one-third the U.S. population — may have seen material posted by a Russian troll farm under fake Facebook identities between 2015 and 2017, according to testimony presented by Facebook's general counsel at a hearing before the Senate on Tuesday.
The figure is the largest yet of the possible reach Russian operatives had on the giant social platformin the run-up to last year's presidential election and afterwards and reflects Facebook's new disclosures that a Kremlin-linked misinformation agency used original content in users' feeds, as well as paid ads. Previously Facebook said 10 million people saw Russia-linked advertising that sought to sway U.S. voters.