One of President Trump's lawyers on Sunday would not rule out that the special counsel overseeing the Russia criminal investigation could get fired. President Trump lawyer won't rule out Special Counsel Robert Mueller getting fired: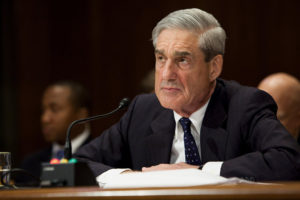 On ABC News' "This Week," attorney Jay Sekulow evaded a direct question about whether Trump would promise not to interfere with the probe run by Special Counsel Robert Mueller.
"Look, the President of the United States, as we all know, is a unitary executive," Sekulow said.
"But the President is going to seek the advice of his counsel and inside the government as well as outside. And I'm not going to speculate on what he will or will not do."
He added, "I can't imagine that that issue is going to arise. But that again is an issue that the President with his advisers would discuss if there was a basis."
"Unitary executive"? We've heard this phrase before. The unitary executive theory "asserts that all executive authority must be in the President's hands, without exception." Presidential power "must be unilateral, and unchecked." The phrase "unitary executive" is a code word for a doctrine that favors nearly unlimited executive power, from the twisted mind of Dick Cheney.