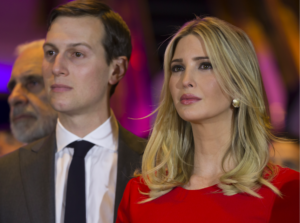 CNN reports that the FBI's criminal probe of Russian meddling in the 2016 presidential election is increasingly touching on the multiple roles of senior White House adviser Jared Kushner on both the Trump campaign and the Trump transition team.
Points of focus that pertain to Kushner include the Trump campaign's 2016 data analytics operation. FBI Russia investigation looking at Kushner role:
The FBI has collected data on computer bots, programs that perform repetitive functions like searches, allegedly linked to Russia that helped target and push negative information on Hillary Clinton and positive information on Donald Trump through Facebook and other social media, the officials say.
Federal investigators have been taking a closer look at the Trump campaign's data analytics operation, which was supervised by Kushner, officials say, and are examining whether Russian operatives used people associated with the campaign — wittingly or unwittingly — to try to help Russia's own data targeting.
We now know that this did, in fact, occur. GOP operative colluded with Guccifer 2.0 – Russian stolen info was used by the GOP.