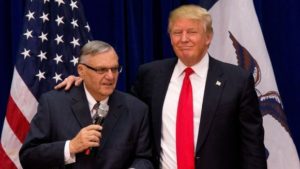 The Trump administration has made prodigious use of the "Friday night news dump" since taking office. And with much of the nation distracted by Hurricane Harvey in Texas and the potential natural disaster of catastrophic flooding to occur over the next several days,  the Trump administration announced, among other moves, the first presidential pardon issued by President Trump to former Maricopa County Sheriff crazy Uncle Joe Arpaio. President Donald Trump pardons former Sheriff Joe Arpaio.
It was not a pardon issued in the "regular order" of how pardons are issued by the Department of Justice, Standards for Consideration of Clemecy Petitioners, but rather was a patently political pardon issued by the president to a political supporter and friend — Trump announced his intentions at his Phoenix campaign rally — a dispensation if you will, to Trump's partner in crime in the racist Obama "birther" movement and his anti-immigrant nationalism movement.
Arpaio was found by the court to have singled out people based on their race for disproportionate law enforcement scrutiny with his immigration sweeps, which violated their constitutional civil rights and the fundamental principle of equal justice under the law.
Arpaio was ordered by the Court to cease and desist, and his office agreed to a consent agreement with the Department of Justice to monitor his compliance. Arpaio defiantly violated the court's order and that agreement. Arpaio had a legal duty to obey the court's order while appealing it. Arpaio was properly found guilty of criminal contempt of the court's order.
Trump's pardon of Arpaio sends the message that some people are above the law if they have friends in high places in the White House.