Calling the governor's plan not fiscally sustainable, the Arizona PTA has withdrawn its backing for Gov. Doug Ducey's teacher pay hike plan. PTA group withdraws support from Ducey's teacher pay hike plan: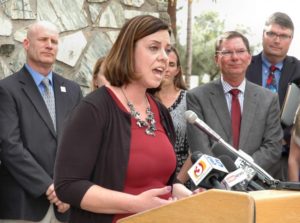 Beth Simek, the organization's president, told Capitol Media Services this afternoon that her own research shows there is no way Ducey can finance both the pay raise and restoration of capital funding without cutting the budget for other needed programs. And Simek said she believes some of what the governor plans to slice could end up hurting the very children her organization is working to protect.
* * *
Simek said that she was not given all the relevant information about how Ducey plans to finance his plan when the governor first asked for support. So, what she did was strike out on her own and gather as much in specifics as she could from various other sources, including other state agencies.
Most crucial, she said, are the cuts being made elsewhere in the budget.
For example, Simek said, Ducey's plan cuts $2.9 million that had been allocated for skilled nursing services in both the state Medicaid program and the Department of Economic Security. Also gone is $1.8 million aid for "critical access hospitals" and $4 million that the governor had proposed in additional dollars for the developmentally disabled.
"We can't support that," Simek said. "That hurts kids and it hurts families."
The governor's plan also cuts back $2 million in arts funding, which arts advocates say would decimate grants that fund programs that benefit pupils.